Kickstart the Azure knowledge building after the vacation, join a community event 🙂
The Microsoft Azure developer community in Sweden has been arranging CloudBurst for some years now. It has been a great success with great attendance and even greater speakers 🙂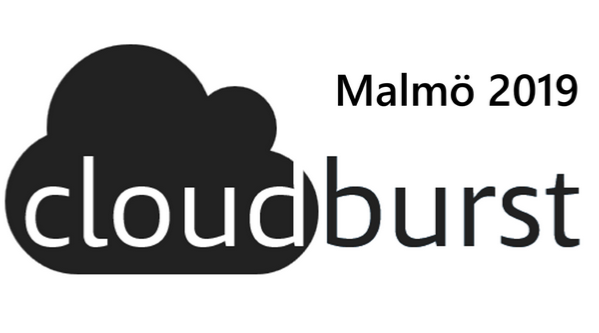 CloudBurst 2019 is a Microsoft Azure developer conferences in run by local enthusiasts. The idea is full days of Azure related sessions in one single session room. You will not miss anything with multiple tracks. Presenting are Microsoft Azure community and industry leaders and provides real-world content for Microsoft Azure developers and those wanting to explore the platform. The focus will be on developing Microsoft Azure applications and real-world cloud-based solutions. All sessions at CloudBurst are presented in English. Our community events are always free to attend and include lunch!
This year Skåne Azure User Group (#AzureSkane) is hosting this event also in Malmö together with FooCafe. The event was fully booked but we got a new bigger room so go ahead and sign up!
Skåne Azure User Group is happy to be able to invite to these kind of events, join our Meetup group and get the invites when we publish them.
The current agenda for CloudBurst in Malmö:
Mark Brown – Principal Program Manager, Microsoft Cosmos DB

Session: How to build mission critical, globally distributed applications with Azure Cosmos DB

Karl Ots – Chief Consulting Officer & Azure MVP at Zure

Session: Best practices of securing web applications running on Azure Kubernetes Service

Adi Polak – Cloud Developer Advocate, Microsoft
Sven Ruppert – Developer Advocate

Session: From desktop to the web with the cloud – cutting costs with Virtual Kublet and ACI

Steef-Jan Wiggers – Azure Technology Consultant Codit

Session: The way of the exploding workflow – Become an Expert in an hour

Maarten Balliauw – Developer Advocate at JetBrains

Session: Indexing and searching NuGet.org with Azure Functions and Search

Rik Hepworth – Azure MVP & and IT Director at Black Marble

Session: Governance – The forgotten key to managing Cloud