For this year's Global AI Bootcamp we followed up the success we had last year and the Global AI Night we had in September!
The Agenda this time had 3 Presentations from 3 different speakers and after the presentations we had a multitude of Hands on Labs options.
We started with listening to the 10 minute Keynote and followed up with presentations.
Key message is that AI is being democratized and regardless skill level you will be able to implement powerful AI in solutions.
As the other times we were hosted by the lovely Foo Café and extend a big thank you to them!
You could follow the event on Twitter or Linked under #AzureSkane and #GlobalAIBootcamp.
Sessions Available on Youtube!
Applied Machine learning – Enriching the portraits
The presentations kicked off with a really fascinating story where @Pheiberg told how he, due to interest in genealogy research, engaged with Swedishportraits.com and after some interaction came onboard with the team and used LUIS and Face recognition Cognitive services etc. to enhance the archive and its capabilities.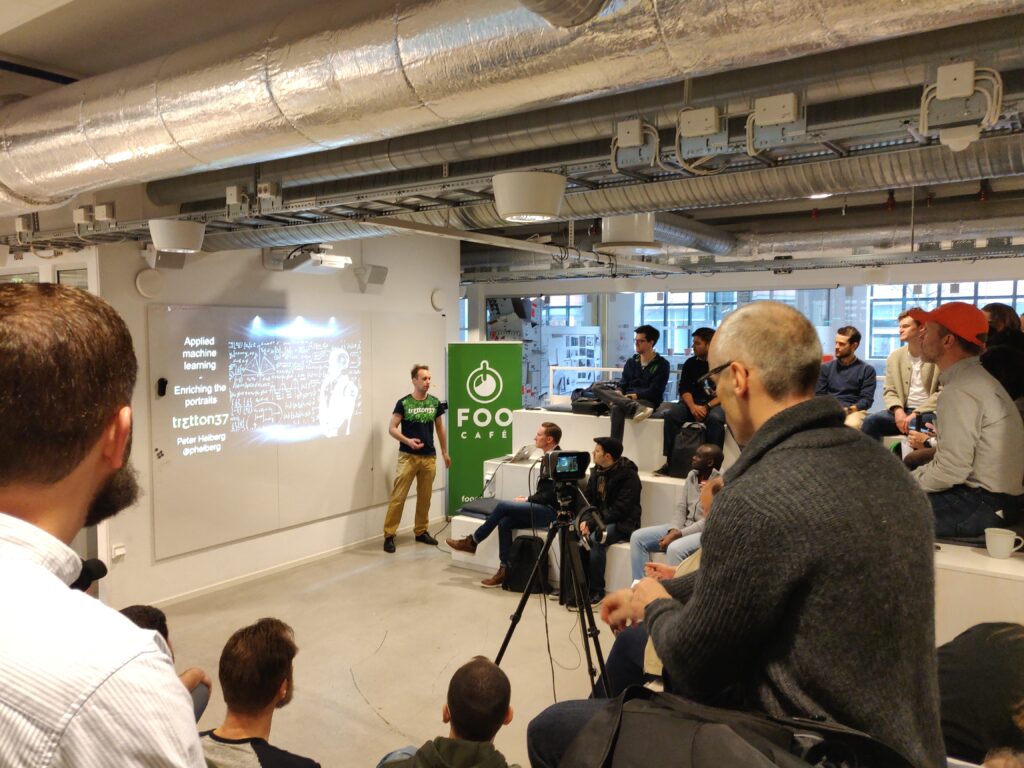 The whole story behind the project is captivating, in short it started with a guy scanning old encyclopedias to "crowdsource" and create a database by having visitors do entries with info from the text in the portraits from encyclopedias.

Peter continued to tell how he used Face recognition on the archive to identify pictures from forums where people post old pictures asking if any knows who it is, and from old Swedish military portraits with unknown names.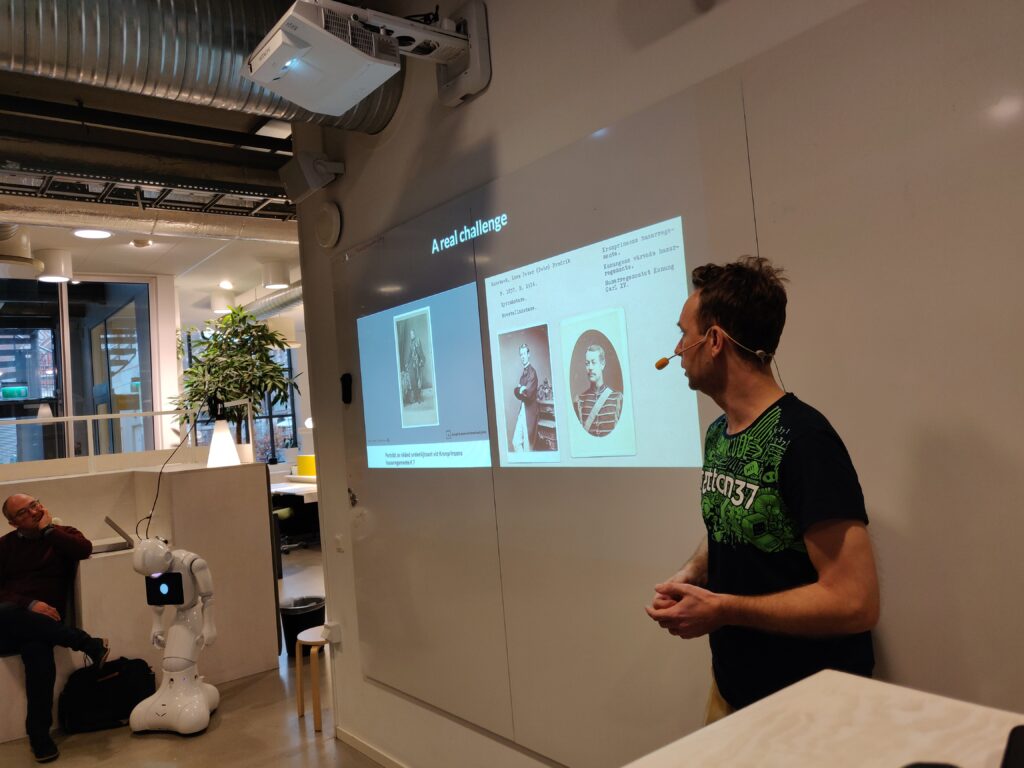 So, the presentation was extremely interesting and showcased great use case for cognitive services combined with other tools and services.
Dlib and world's simplest face recognition library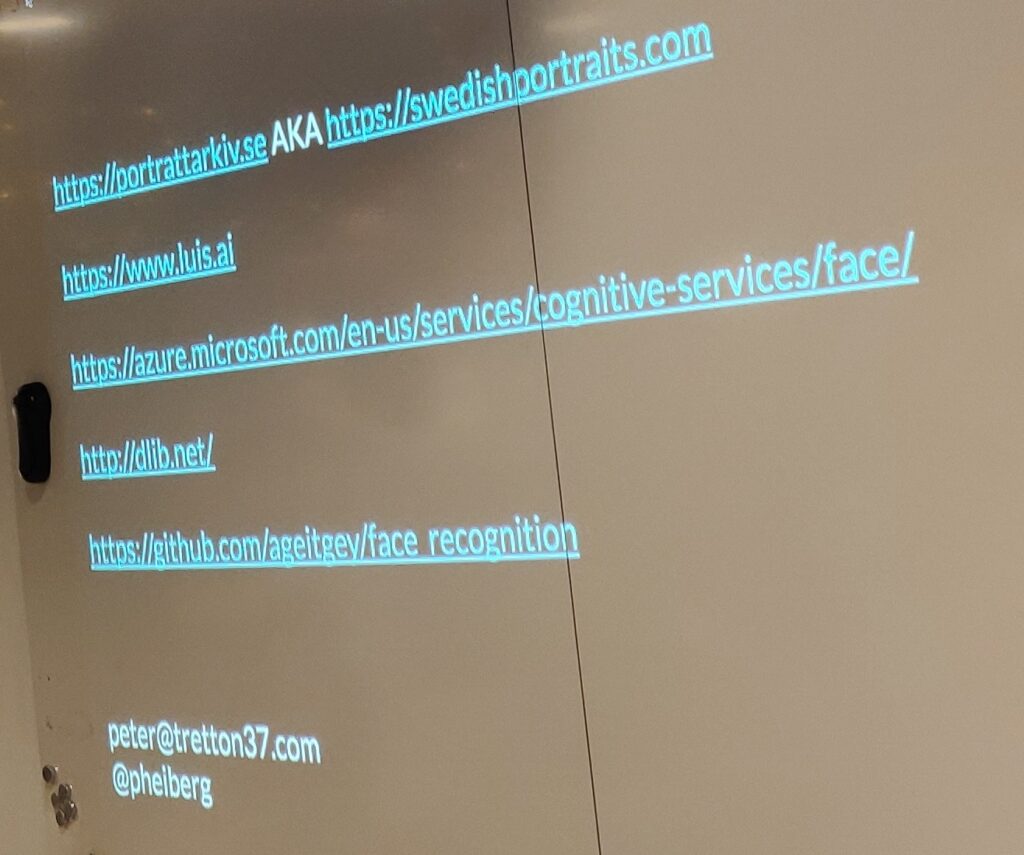 The "Buddy" Robot and Intelligent Tower Crane
Mattias Jönsson has been at all our AI meetups, sharing his real life experiences from projects and deep data science knowledge. Grateful for the time Mattias invests and put into sharing with this community and user group!
This time we heard about two specific use cases
The "Buddy Robot"
The intelligent tower crane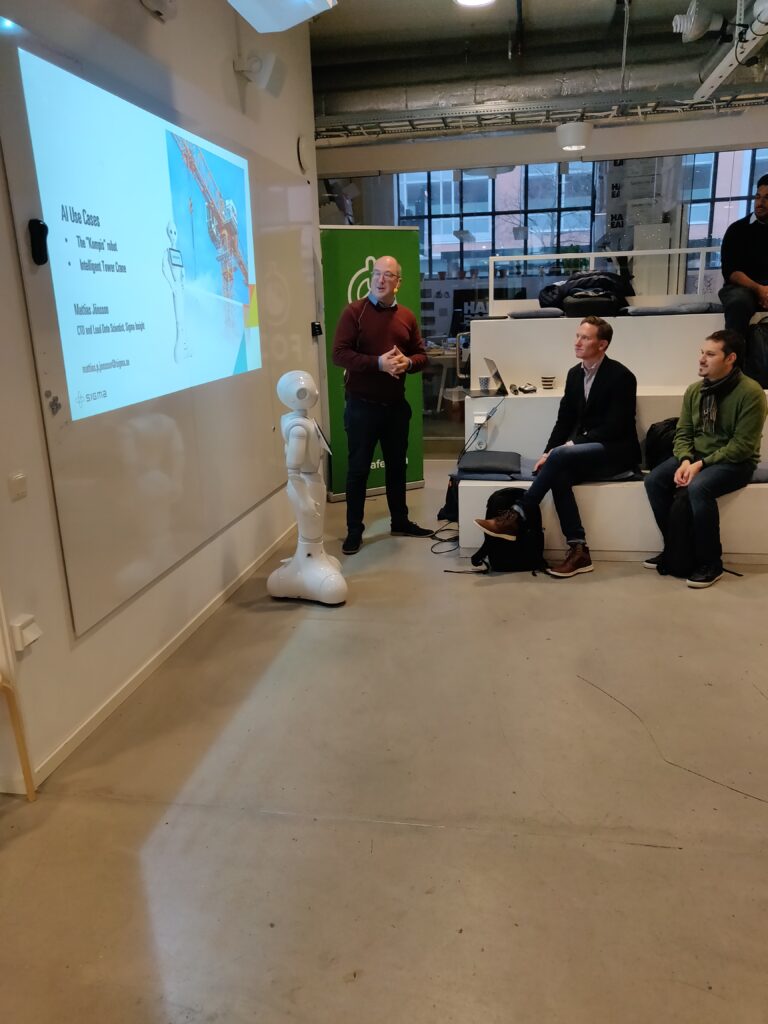 The Tower crane use case had a pragmatic implementation, basically notifying crane operator if any persons are in danger zone on the ground. Here we hear how you get the data to produce a model, the challenges how to notify if anyone is in danger zone and how the model 2.0 is to be enhanced.
The Buddy Robot
The Pepper robot is just great! Brings a smile to your face and sparks the child in you 🙂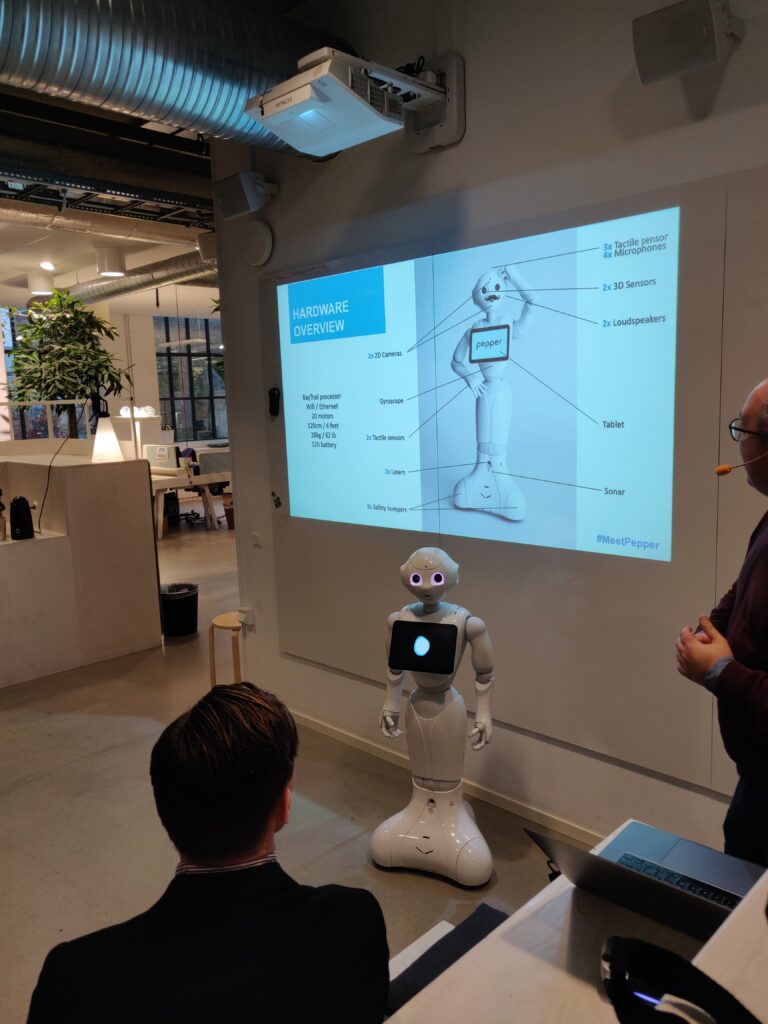 The use case presented is a noble effort to bring comfort, security and a sense of control to children going thru cancer treatment, Interesting fact is that children feel medical stress and worry about needles and band aids when in the big picture that is minor. The working thesis is to have pepper give the children a safe feeling, being in control, keeping the thoughts on something more fun.
Read more about the case here.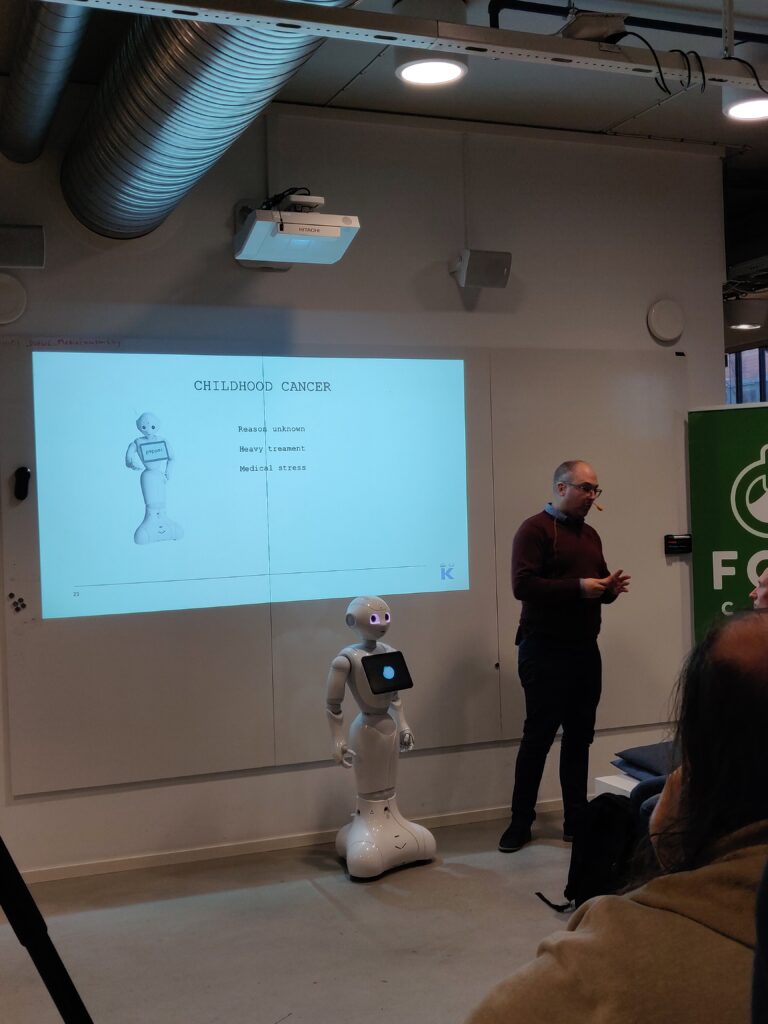 Of course, everyone had the chance to interact with Pepper and talk with Mattias about details, and even some code was broken out!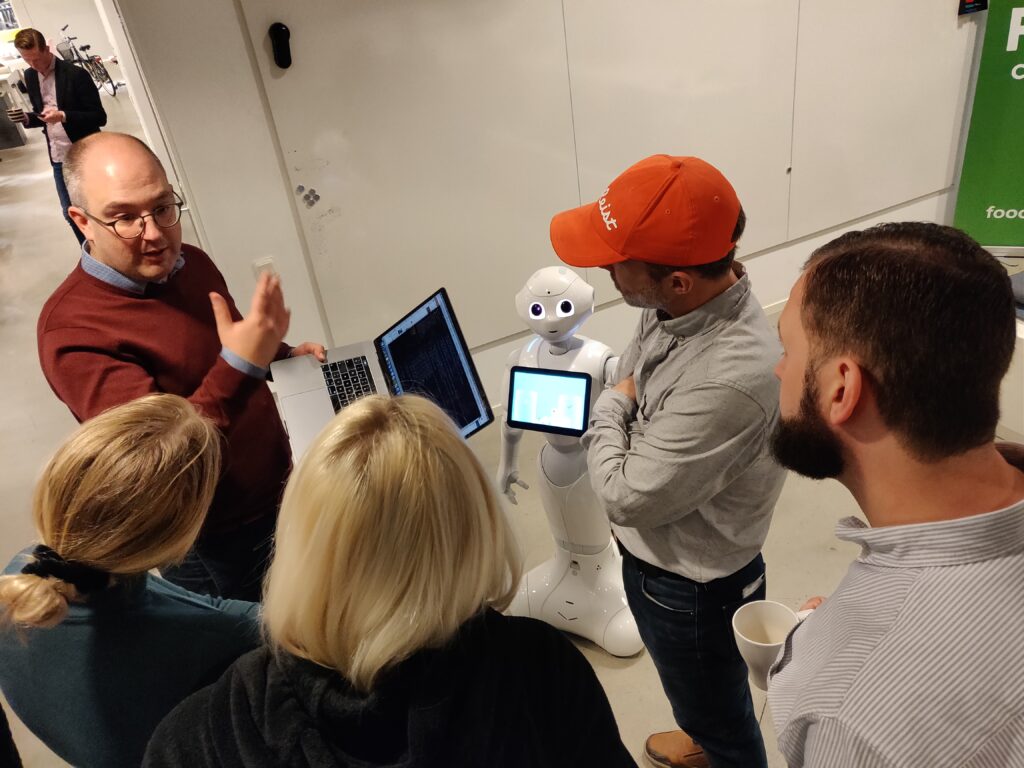 Solving 3 business problems with ML.NET in 45 minutes
And the last session before the labs we got to hear Michal Lusiak talking about ML.NET and how to easily apply superpowers to your code.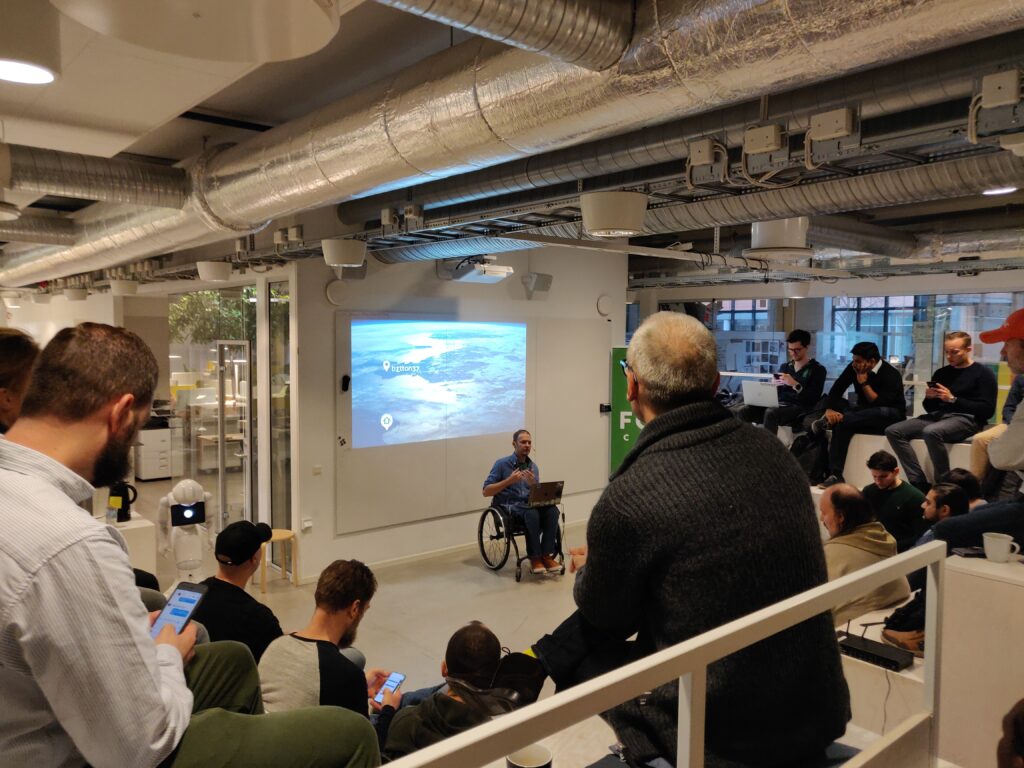 Michal highlighted a quote that puts the AI hype in perspective 🙂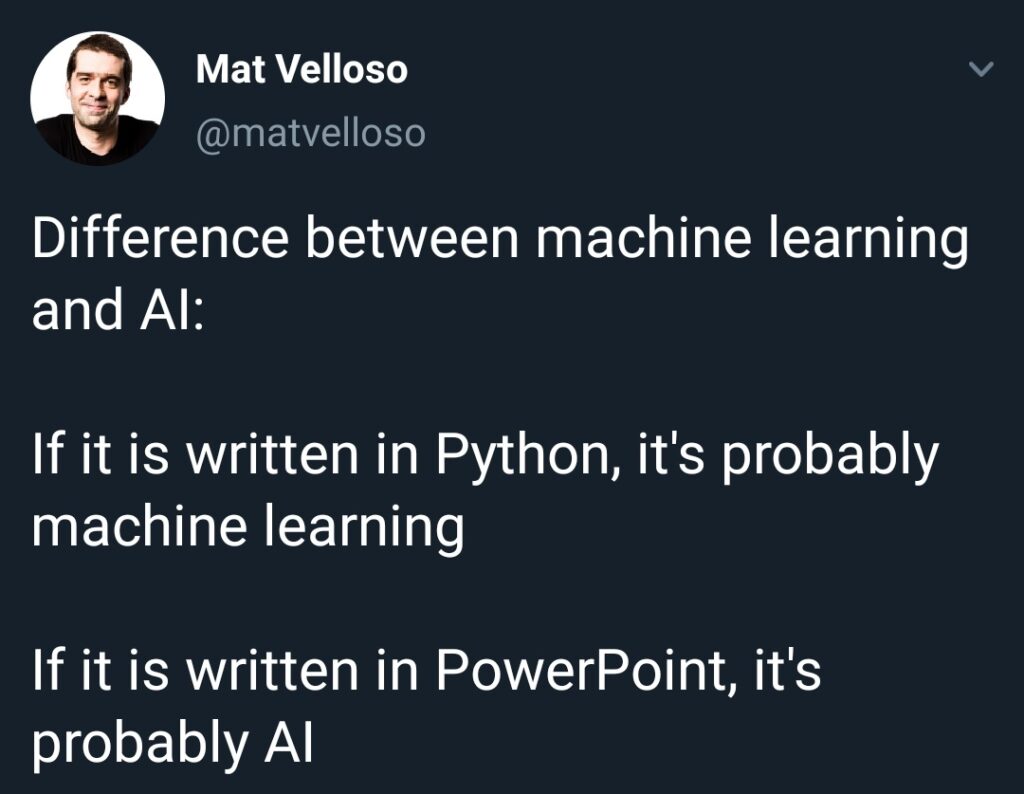 We got to see AutoML in action and Michal talked about some useful cases where this can be applied.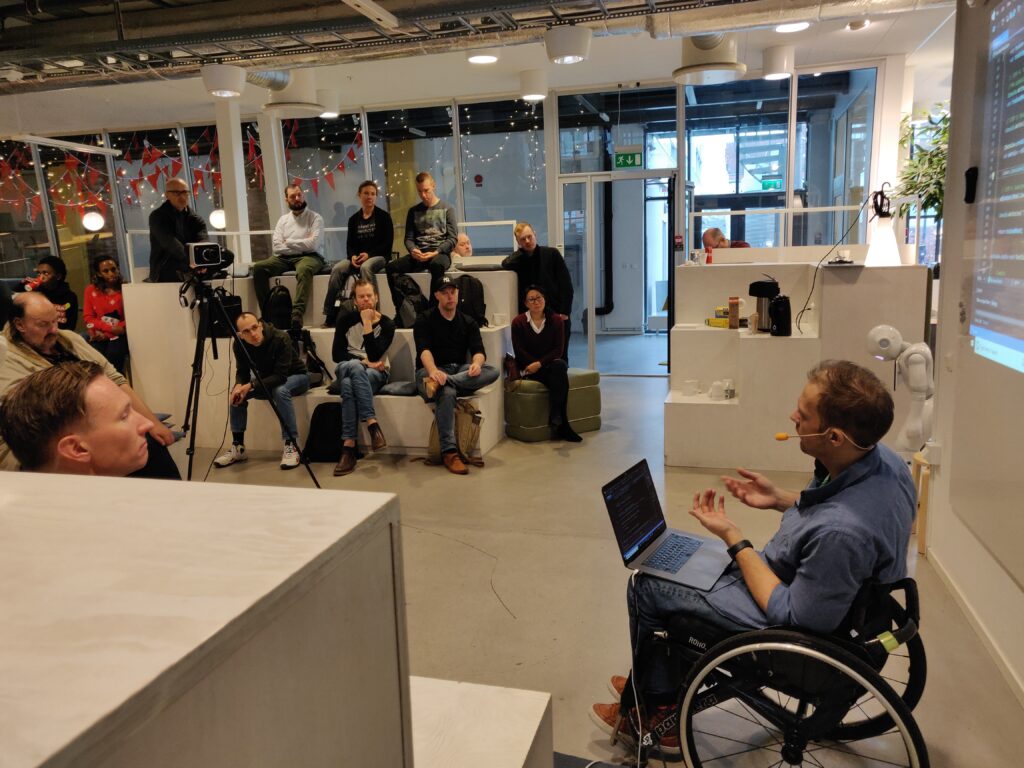 Hand on Labs
After the sessions we had several Hands on Labs to follow up the presentations with.
Here you find all the labs and the extra one.
There is something for everyone, regardless of the skill level!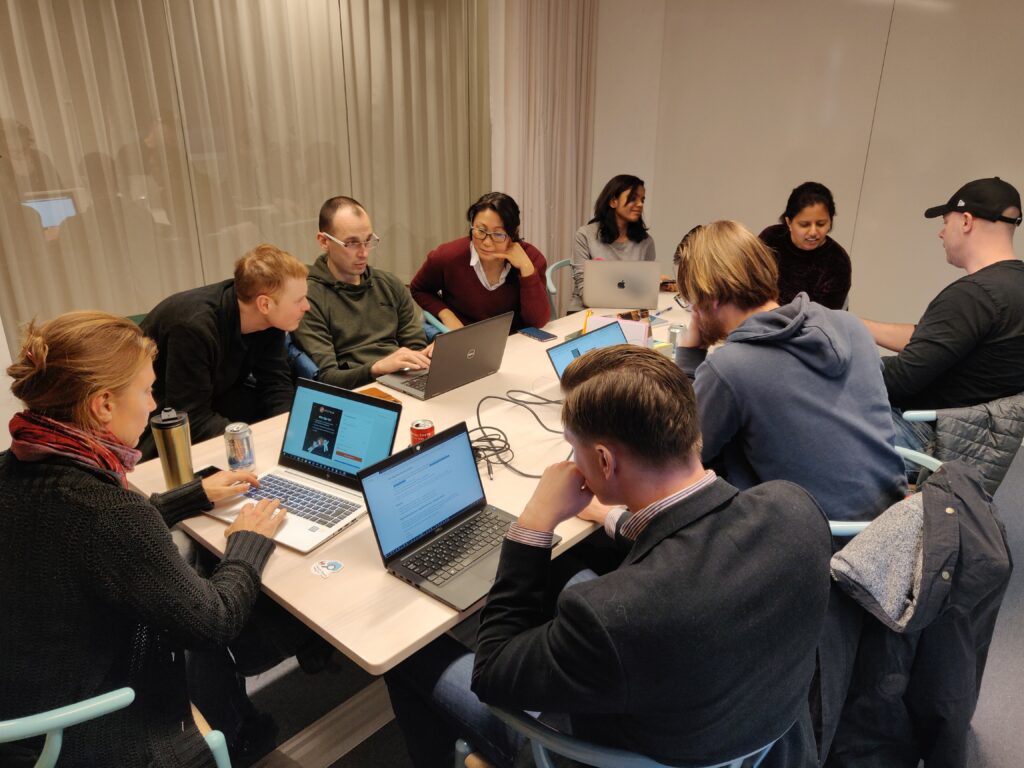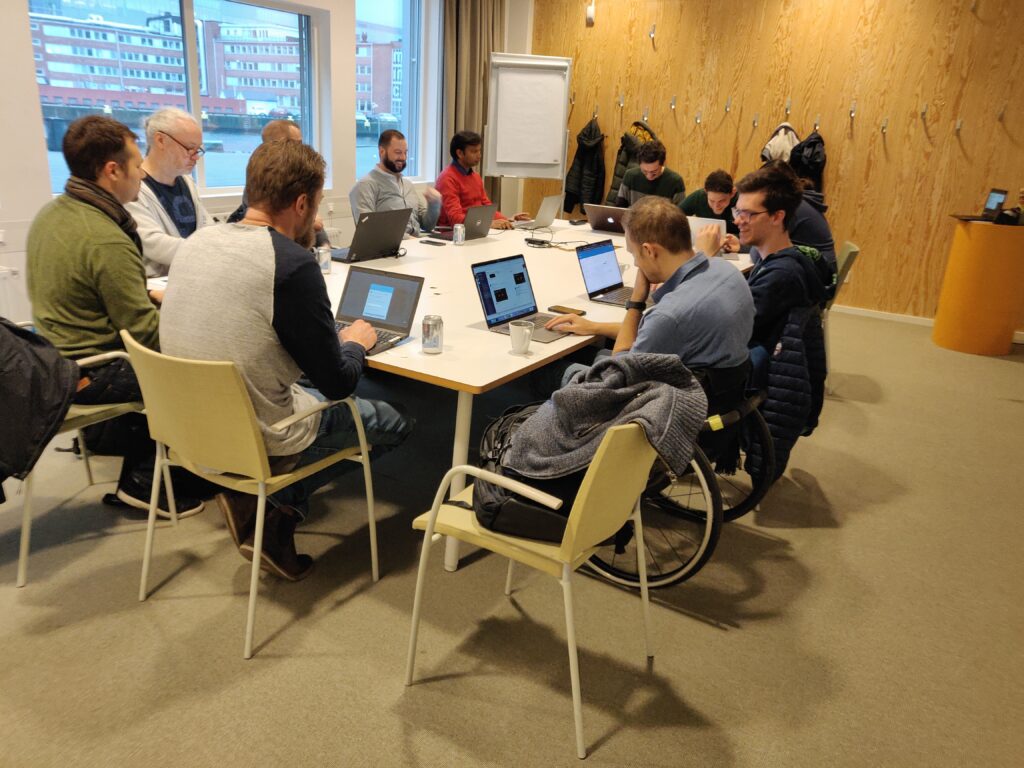 Summary
This was again a super way to spend a Saturday 🙂 Meeting new people and old friends, learning new things, talking to robots etc.
Sign up at the Azure Skane Usergroup and get information for upcoming events. We have done a few AI events now and the next AI flavored one will be the Global AI Tour sometime in April-May.
We also have Global Azure Bootcamp coming in April.
See you at the meetup 🙂